Putin has pledged carbon neutrality by 2060. He claims Russia's forests will do much of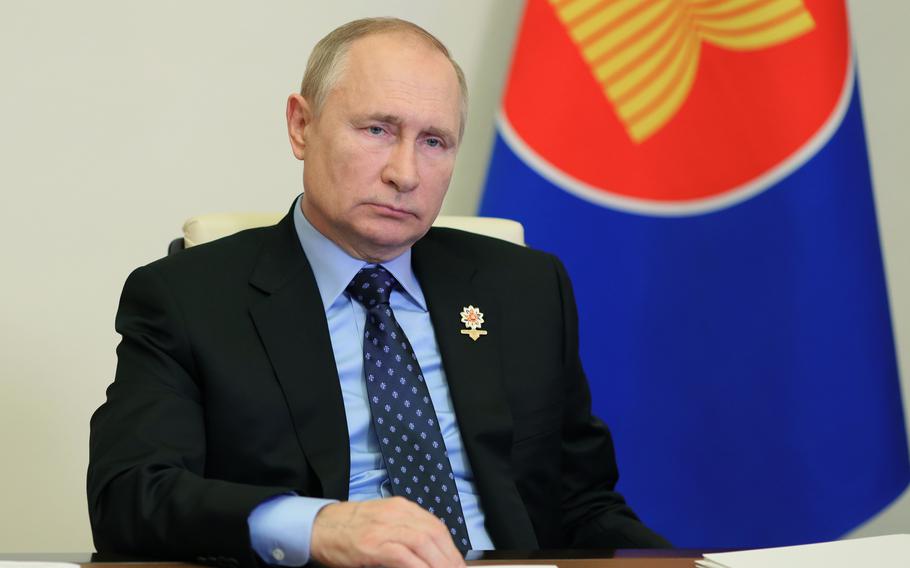 Russian President Vladimir Putin takes part in the East Asia summit via video link at the Novo-Ogaryovo residence outside Moscow, Russia, Wednesday, Oct. 27, 2021. The East Asia Summit is organized by the 10-member Association of Southeast Asian Nations. (Evgeniy Paulin, Sputnik, Kremlin Pool Photo/AP)
MOSCOW – Even as large swaths of the Siberian forest have burned during summer wildfires – made increasingly worse by climate change – the Kremlin's strategy to slash emissions is a bet on those same trees.
President Vladimir Putin announced earlier this month that Russia "will strive" for carbon neutrality by 2060 – its most ambitious climate goal.
But how Russia plans to accomplish that has been met with criticism and skepticism.
Putin claimed earlier this year that Russia's vast territory, especially its forests, could neutralize "several billion [metric] tons" of carbon dioxide emissions – a figure climatologists say is unrealistic and undermines the viability of his carbon-neutrality pledge.
Putin's increased emphasis on climate change will be tested at the United Nations' climate summit in Glasgow, Scotland, which opens Sunday. World leaders, including President Biden, have insisted that the gathering must mark a key moment to collectively commit to keeping alive the most ambitious goal of the 2015 Paris climate agreement:limiting warming to 1.5 degrees Celsius (2.7 Fahrenheit) compared with preindustrial levels.
Some experts question whether Putin's talk will translate into action in one of the world's largest oil and natural gas producers.
"The statements Russia makes at [the U.N. climate conference] can often be considered as window dressing," said Anna Korppoo, a research professor at Norway's Fridtjof Nansen Institute, specializing in Russia's climate policy.
"You have to say that you're doing something," she added, "but then there's the other question of whether that something is concrete."
It's not enough, she noted, to make pledges by "simply recalculating" how much carbon a forest absorbs.
Russia has long faced criticism for setting weak climate targets and not doing more to curb the carbon footprint of its massive fossil fuel industry. Experts at the Climate Action Tracker, which monitors countries' climate promises, rate Russia's 2030 target under the Paris climate agreement as "highly insufficient."
Putin has said he won't attend the Glasgow climate conference in person, though he's still expected to participate via video link.
Moscow has not signed on to the Global Methane Pledge, a U.S.- and Europe-led initiative that aims to reduce methane emissions nearly a third by 2030. Russia also raised objections to European Union proposals for a carbon border tax, which would impose a levy on imports of carbon-intensive steel, aluminum, cement, fertilizers and electricity. Putin has criticized it as an attempt to use "unfair means of competition."
To reach carbon neutrality by 2060, Russia plans to reduce its oil and coal industries, while doubling down on natural gas. But its sprawling network of pipelines leak methane, the chief component of natural gas and the second-most abundant greenhouse gas after carbon dioxide.
"Together, we need to find technological solutions to minimize methane leakages," said Ruslan Edelgeriyev, Russia's special envoy on climate issues and the country's top climate negotiator. He added that he has had discussions with his U.S. counterpart, John F. Kerry, about joint satellite monitoring of emissions.
"On the contrary, many countries want to switch over to gas and you're telling us to stop it," Edelgeriyev said. "I don't believe this is correct. Task number one is to step away from coal."
Over 20 years, methane's warming impact is more than 80 times greater than that of carbon dioxide, and high leakage from pipelines and other sites can make it more harmful than coal. The Paris-based International Energy Agency, an intergovernmental organization set up in the wake of the 1973 oil crisis, puts the country's 2020 methane emissions figure at nearly 14 million tons, which would make Russia the world's largest emitter of oil- and gas-based methane.
To meet a Putin goal of reducing Russia's carbon emissions to below the E.U.'s level by 2050, Russia's Ministry of Economic Development outlined four strategies in a draft proposal seen by The Washington Post. Three of the scenarios hinge on Russia's ecosystems – forests, tundra, swamps and more – absorbing at least 1 billion tons of carbon dioxide in 30 years, double what they do now, according to most studies. Putin insists the number can be as high as 2.5 billions tons of carbon dioxide.
Anna Romanovskaya, a scientist and director of the government-organized Institute of Global Climate and Ecology, defended the figure as realistic – as long as there's a commitment to reducing wildfires and increasing reforestation.
She also suggested that Russia could implement more forest fire protection measures in lands currently considered "unmanaged," so that they could eventually be counted as "managed" and further boost the absorptive capacity.
"The potential is huge, but you need to know how to use it, and to do that you need to work and not swing your hands in different directions," she said. "We have really moved in the right direction this year."
That's been spurred by Putin's own change of tune on climate change.
In 2003, he said, "2 to 3 degrees [of global warming] wouldn't hurt. We'll spend less on fur coats." In 2018, Putin rejected the scientific consensus that climate change is human-caused and said it was the result of "changes of global character, cosmic changes, some invisible moves in the galaxy" – a theory ruled out by climatologists.
But he acknowledged climate change's human origins for a first time in June during nationally televised remarks, adding that the thawing permafrost in Russia's northern regions could lead to "very serious social and economic consequences" for the country. Parts of Russia's Arctic already have warmed double or even triple the global average.
"I can say that certainly this year in general the climate agenda has shifted from a point of some endless loop," Romanovskaya said. "Russia was going around in circles, discussing whether there is warming or no warming, is it anthropogenic or not, do all our forests absorb it or not."
Alexey Kokorin, director of the Climate and Energy Program at WWF Russia, called Putin's 2060 carbon-neutral goal a "political declaration."
"But it's a good thing that this task is even on the agenda," he said. "We can question some other aspects of this strategy, but so far this is a level of political declarations and concepts that is already a big step forward for Russia."


Read More: Putin has pledged carbon neutrality by 2060. He claims Russia's forests will do much of