Australia news LIVE: Victoria records 1471 new local COVID-19 cases, four deaths; NSW
Three quarters of New Zealanders aged 12 and over are fully vaccinated against COVID-19, as the country eyes 90 per cent vaccination targets to see the end of "large-scale, blanket lockdowns".
In an update this afternoon, the country's Director-General of Health Dr Ashley Bloomfield said two milestones were reached yesterday including 75 per cent of eligible New Zealanders being fully vaccinated, or 3,159,301 people.
"We expect 80 per cent or so to be in that situation next week," he said. "Auckland has already achieved 80 per cent of eligible people fully vaccinated."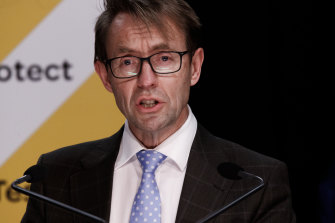 The first dose rate for those aged 12 and over in New Zealand is 88 per cent.
There were 162 new COVID-19 cases reported today. Of those, 156 are in Auckland, five cases in Waikato and one in Northland. A further four cases were identified in recent returnees in managed isolation.
Dr Bloomfield said 53 people are in hospital with COVID-19 and three of those patients are in ICU or a high dependency unit.
New Zealand Prime Minister Jacinda Ardern said the goal is to reach 90 per cent vaccination levels for the eligible population before moving to the new COVID-19 protection framework.
"Where everything from gatherings to hospitality comes back on stream, and where we remove large-scale, blanket lockdowns," she said.
Loading
She said in the meantime, Dr Bloomfield had recommended restrictions in Waikato move to step two of alert level three from tomorrow, November 2, triggering the reopening of retail and public facilities such as museums, and outdoor gatherings for 25 people, removing a cap of two households.
Ms Ardern said Auckland was fewer than 5000 first doses away from "cracking" the 90 per cent goal and cabinet had decided "in principle" to move Auckland to the same restriction level as Waikato next week, on November 9.
"For those concerned that we have not eased immediately, our approach is to take a steady and conscious change in our restriction. We have only recently returned students into senior school," she said.
"For those who have concerns about any easing, here I would say that because of high vaccination rates in Auckland, we can move forward with greater confidence, and we will continue to have very strong and clear public health guidance on how businesses that are eligible to reopen do so.
"These decisions are carefully balanced and allow us to release some of the pressure and fatigue that we know exists in Auckland while we continue to vaccinate and prepare for the new framework where much more certainty will exist for everyone."


Read More: Australia news LIVE: Victoria records 1471 new local COVID-19 cases, four deaths; NSW