BP predicts tight winter gas markets this winter; Standard Chartered sees 'uneven'
Good morning, and welcome to our rolling coverage of the world economy, the financial markets, the eurozone and business.
BP has predicted that gas markets will remain tight this winter, after rising oil and gas prices lifted the energy giant's earnings.
BP beat City forecasts this morning by posting underlying profits of over $3.3bn for the last quarter, due to higher oil and gas prices and refining margins and strong trading results.
And with the global economy facing an energy crunch, BP says:



Gas markets were very strong in the quarter and we expect they will remain tight during the period of peak winter demand.
BP also predicts that oil prices will be boosted by this dash for gas, with Brent crude already at a three-year high around $85 per barrel.



Oil prices have continued to increase, and inventories have reduced back towards pre-pandemic levels. We expect oil prices to be supported by continued inventory draw-down, with the potential for additional demand from gas to oil switching.

OPEC+ decision making on production levels continues to be a key factor in oil prices and market rebalancing.
Rising energy prices lifted BP's underlying replacement cost profit (its preferred measure of earnings) to $3.322bn for the third quarter of the year.
That's 18% up from $2.798bn in Q2, and ahead of forecasts of around $3.06bn.
That's sharply higher than the $86m profit a year earlier, in July-September 2020 when BP was recovering from the economic shock of the pandemic.
BP's chief executive, Bernard Looney, says:



This has been another good quarter for bp – our businesses are generating strong underlying earnings and cash flow while maintaining their focus on safe and reliable operations.

Rising commodity prices certainly helped, but I am most pleased that quarter by quarter, we're doing what we said we would – delivering significant cash to strengthen our finances, grow distributions to shareholders and invest in our strategic transformation. This is what we mean by performing while transforming.
On a statutory basis, BP actually made a loss of $2.5bn — which it says is due to the way that hedges used to risk-manage its liquified natural gas contracts are accounted for…..
Wholesale gas prices soared this year during the energy price crunch. The cost of next-day UK delivery surged from 60p per therm in January to over 300p/therm last month, although it's now dropped back to 155p/therm last night.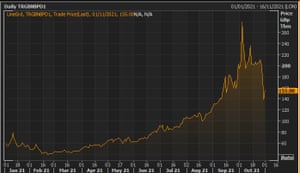 Those wholesale prices have forced a swathe of suppliers under — yesterday Bluegreen Energy Services, which had just 5,900 customers, ceased trading.
Bluegreen Energy said the crisis had left it in an "unsustainable situation" and it had been "regrettably… forced to make the difficult decision to cease trading".
Also coming up today
European stock markets are set for a subdued start, after hitting record highs yesterday.
Wall Street also reached fresh records last night, ahead of the US Federal Reserve's two-day policy meeting which begins today, where officials could decide to taper its bond-buying stimulus programme:
Ipek Ozkardeskaya, senior analyst at Swissquote, explains:



Nothing gets in the way of the equity bulls: not chip shortages, nor labour shortages, or the energy crisis, or the pandemic, not even the fact that the Federal Reserve (Fed) is just about to announce scaling back its massive bond purchases program in order to contain the rising inflation.

The bulls continue pushing the equity rally to fresh records. The S&P500 and Nasdaq both renewed record on Monday's session, whereas the major headline on Bloomberg this morning was that 'the supply chain crisis risks taking the global economy down with it'.

Still, investors prefer seeing the glass half full: we have a strong earnings season, 80% of the S&P500 companies that announced earnings so far, beat expectations.
The agenda
9am GMT: Eurozone manufacturing PM survey for October
2pm GMT: IBD/TIPP index of US economic optimism




Read More: BP predicts tight winter gas markets this winter; Standard Chartered sees 'uneven'