Australia news LIVE: Cleo Smith found alive and well; Victoria records 941 new local
Foreign Minister Marise Payne says she had a "constructive" in-person meeting with French ambassador to Australia Jean-Pierre Thebault on Monday.
Speaking on Sydney radio station 2GB this afternoon, in her first interview since the sparring escalated between the world leaders in Rome, Ms Payne said she understood the scrapping of the $90 billion submarine deal had been "deeply disappointing for France".
"As the Prime Minister has said, it is not true in terms of the comments which have been made about lies, and particularly in relation to the Prime Minister," she said.
"I don't go into my conversations with diplomatic representatives and with my counterparts."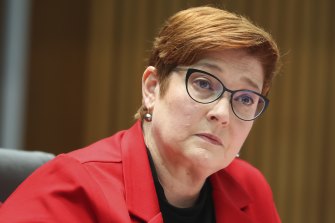 Asked whether she was disappointed with the ambassador's comments today that Australia's actions amounted to a "stab in the back", she said it was "language that has been used in the past in relation to this".
"But importantly for Australia, we are never going to compromise on decisions that we need to take in Australia's national interests," Ms Payne said.
As for her reaction to French President Emmanuel Macron's claim Prime Minister Scott Morrison was a liar, Ms Payne said Mr Morrison had "swiftly" clarified that and made Australia's position clear.
"The Prime Minister has set out the timeline and the discussions which were had," she said.
"I do think what both countries need to do now, and the ambassador referred to this also today, is to work together in the Indo-Pacific.
"I understand and I know that there are discussions continuing between Australia and France but this is the region in the world [with] the most dynamic strategic challenges."
Loading
Ms Payne was also asked about former Prime Minister Malcolm Turnbull's comments that Prime Minister Scott Morrison "has always had a reputation for telling lies".
"Comments like those are for others to make but they are not ones with which I agree or support," she replied.
Ms Payne also stressed the significance of the AUKUS arrangement between Australia, the United Kingdom and the United States goes beyond nuclear-powered submarines and includes shared capabilities "that are going to equip us and prepare us for the very, very significant strategic and security challenges potentially of the decades and decades ahead".


Read More: Australia news LIVE: Cleo Smith found alive and well; Victoria records 941 new local