Cop26: Big oil feels left out of climate conference– day four live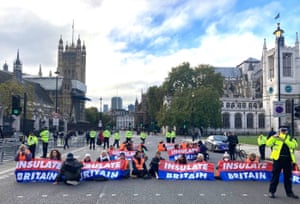 Insulate Britain blocked Parliament Square in central London this morning, in an apparent response to critics who have accused them of targeting the wrong people.
Several dozen members of the climate activist group walked out into the roads around the Palace of Westminster at about 9am, gluing themselves to the ground as police quickly reacted to their protest.
Insulate Britain's campaign of disruptive road protests in and around London has now entered its eighth week. Today's was their 19th action. They are calling on the government to commit to a programme to insulate all Britain's homes as a first step to solving the climate crisis.
However, they have been criticised for stopping ordinary people going about their business during morning rush hour, with some infuriated drivers getting out of their cars and violently clearing protesters from the roads themselves. Many have said they are not choosing the right targets.
Ruth Jarman was stuck by her hand to the ground outside parliament, on her 13th Insulate Britain protest. She said: "It feels right to be here. At this point in time in history this is the place that could make the decision to save humanity and God's creation, and at the moment it's not making that decision, so what do you do?"
As well as sticking themselves down by the hands, some protesters had stuck themselves down by their feet, to each other. One stuck himself to a police van, while another climbed on top of a police vehicle and held a banner.
Among those who came to see the protest was the Tory MP Dehenna Davison. She said: "We all believe in the right to protest, but I think what this does is frustrate people going about their daily lives and actually turns people off."
In a statement, Insulate Britain said it had been one of the most successful climate campaigns yet. "Our name recognition went from zero to 77% of the public in three weeks, we have attracted enormous media interest and we have started thousands of conversations, in the press, on social media and in homes up and down the country," they said.
"Importantly, we have exposed the government's refusal to act on home insulation as cowardly and vindictive and their refusal to protect our country and our children from the climate crisis as genocidal and treasonous."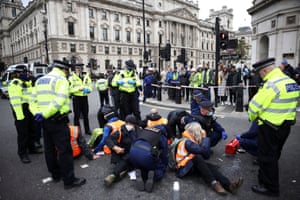 Read More: Cop26: Big oil feels left out of climate conference– day four live