Shiba Inu Price Prediction: SHIB Slips Beneath 61.8% Fibo – What's Next?
Shiba Inu's price prediction remains bearish, having plunged below the 61.8% Fibonacci correction, to under $0.0000538. Previously, SHIB/USD closed at $0.00005497, after placing a high of $0.00006918, and a low of $0.00005310. SHIB/USD continued its decline and extended its losses on Wednesday, as the investors started taking profits. 
Shiba Inu has been gaining much attention lately, as the community was expecting a listing on the Kraken exchange. However, on Wednesday, these expectations came under pressure from the latest tweet from the Kraken exchange.
Kraken, a top-ten San Francisco-based cryptocurrency exchange, said earlier this week that it would list the Shiba Inu token on its platform by Tuesday, if the tweet earned at least 2,000 likes. The tweet also called out the SHIB army to take part in this move.
The SHIB community participated, and the post has now reached more than 80,000 likes. It looks like Kraken should have thought things out a little better, because, in a hyper-connected digital world, 2,000 likes on social media is not a big thing anymore. The target was reached within mere minutes, and the community started buying SHIB/USD, hoping that Kraken would fulfill its promise to list the coin.
However, on Tuesday, Kraken failed to announce the listing of SHIB coin on its platform, which disappointed the Shiba Inu community, and the token started losing its previous gains in the classic over-promise/under-deliver scenario.
The token dropped further on Wednesday, after Kraken confirmed, through a tweet, that there was more work to do before the SHIB token could be listed. They said that they were moving through the listing review process, and there were certain things that still had to be done. This put additional pressure on the SHIB token, as the company confirmed that it was breaking its promise, and this resulted in the coin losing most of its previous gains.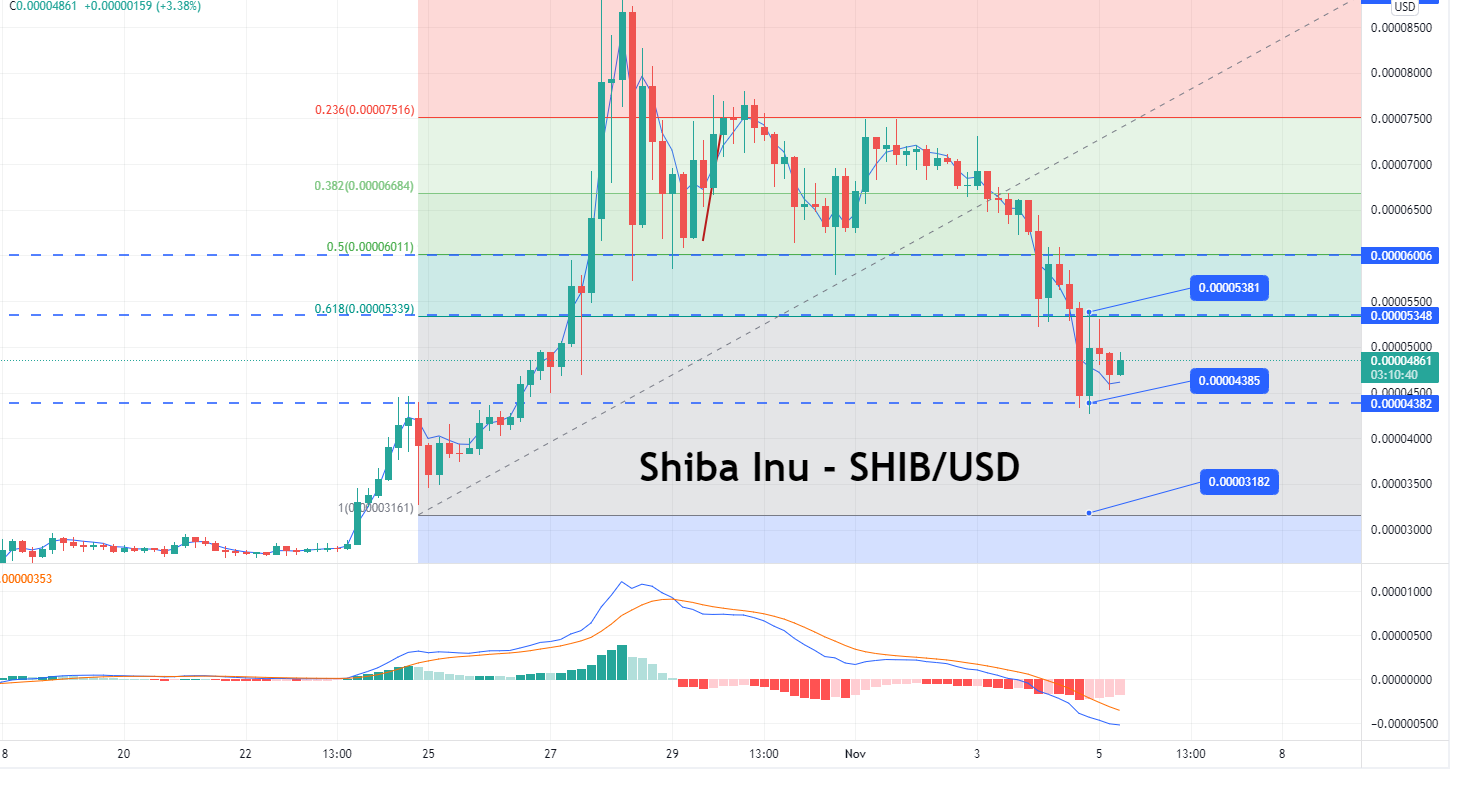 Shiba Inu Price Prediction: Breakout at the 61.8% Fibonacci Retracement 
On the 4-hour timeframe, the SHIB/USD is trading with a bearish bias at 0.000049. It has dropped below a major support level of 0.000053, which is being extended by a 61.8% Fibonacci correction level. 
For now, the same level is working as a resistance for the SHIB/USD. Closing of candles below the 61.8% Fibonacci level supports odds of a continued selling trend. Therefore, the Shiba Inu is likely to target the next support level of 0.000043. 
Daily Technical Levels
Support                      Resistance
0.00004890             0.00006519
0.00004274              0.00007532
0.00003261              0.00008148
Pivot Point:               0.00005903
A bearish breakout below 0.000043 could extend the selling trend until 0.000031. The MACD and RSI support a selling bias, while the 50 EMA is also pushing Shiba Inu prices lower. 
Consider taking sell trades below 0.000053 today and vice versa. Good luck! 




Read More: Shiba Inu Price Prediction: SHIB Slips Beneath 61.8% Fibo – What's Next?