EU kicks off debate on need for booster shots to travel
European Union governments kicked off a debate today about how long vaccines are effective against Covid-19 and whether evidence of a booster dose will be required to maintain free travel across the bloc as cases spike.
The executive European Commission is due to present a proposal this week to coordinate free movement using Covid-19 passes, after Austria became the first country in western Europe on Monday to reimpose a lockdown since vaccines were rolled out.
EU coordination on the passes, showing if a holder is fully vaccinated or has a recent negative test or recovery from infection, has allowed an easing of curbs on cross-border travel.
The passes, typically viewed on mobile devices, are issued by individual countries, but are recognised for travel across the bloc. They are now increasingly being deployed in many EU countries for access to indoor areas such as bars or theatres.
Greece has proposed that people should in future only be able to travel freely if they have received a second or third dose in the previous six months and that booster doses should be added to the information shown in EU passes.
Luxembourg Foreign Minister Jean Asselborn said it was vital the 27 EU states agree a common standard. His country would normally receive about 200,000 workers a day from neighbouring countries.
"We can't have different systems in Luxembourg and in Greece, or in Germany or France. It would be against the interests of the European citizens. They demand that of us and it can be done," he told reporters before a meeting of EU counterparts in Brussels.
Irish European Affairs Minister Thomas Byrne echoed the view that the EU digital Covid passes, launched in July, needed to continue to facilitate free movement.
German European Affairs Minister Michael Roth said booster doses were now "the order of the day", pointing to scientific studies that show they really bolster immunity. He added: "A digital vaccination certificate is of paramount importance, but it must be based on scientific knowledge."
Dutch Covid-19 patients transferred to Germany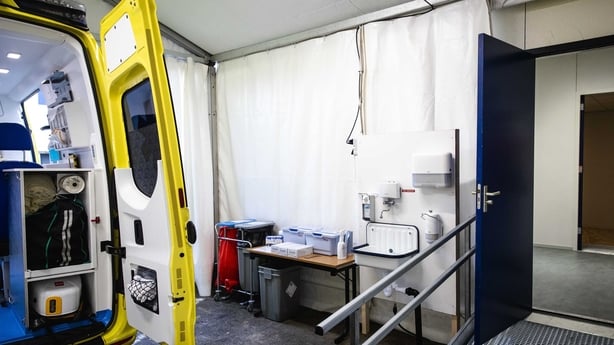 The Netherlands has started transporting Covid-19 patients across the border to Germany to ease pressure on Dutch hospitals struggling to deal with a surge in coronavirus cases.
A patient was transferred by ambulance from Rotterdam to a hospital in Bochum, some 240km east this morning and another would follow later in the day, health authorities said.
The number of Covid-19 patients in Dutch hospitals has risen to its highest level since May in recent weeks and is expected to increase further as infections jump to record levels.
German hospitals in total have offered 20 beds for patients from the Netherlands, after treating dozens during previous waves of the pandemic.
Plans by the Dutch government to impose further curbs to contain the virus prompted three nights of rioting
starting on Friday and more than 170 arrests in cities cross the country.
Plans include limiting access to many public places to people who have been vaccinated or have recently recovered from Covid-19 but it remains unclear whether the government will find a majority for them to become law.
As of yesterday, 470 of a total 1,050 intensive care beds in the Netherlands were being used for Covid-19 patients and hospitals are already scaling back regular care, including cancer treatments and heart operations, to secure enough room for coronavirus cases.
---
---
Germany considers more Covid-19 curbs as US advises against travel there
Germany's health minister has called for further restrictions to contain a "dramatic" surge in coronavirus cases as the country's infection rate hit a record high and the United States advised against travel there.
The seven-day incidence rate – the number of people per 100,000 to be infected over the last week – hit 399.8 today, up from 386.5 yesterday, data from the Robert Koch Institute (RKI) for infectious diseases showed.
Health Minister Jens Spahn called for more public spaces to be restricted to those who were vaccinated or recently recovered from Covid-19 and also had a negative test, in a bid to contain Germany's fourth wave.
Mr Spahn did not rule out lockdowns, although he said this would be decided region by region. Some regions such as the hard-hit Saxony and Bavaria are already taking measures such as cancelling Christmas markets.
"The situation is not only serious, in some regions in Germany it is now dramatic," Mr Spahn told German Radio. "We are having to move patients around as the intensive care units are full and that doesn't just affect Covid-19 patients."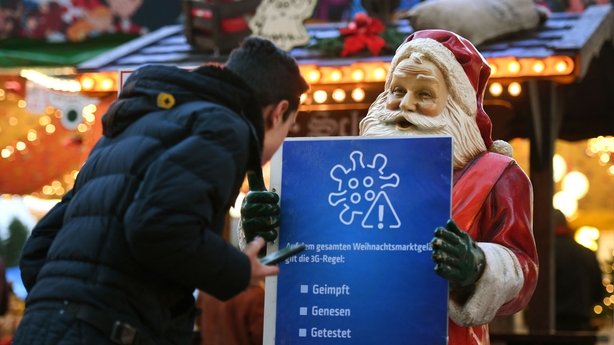 With Germany grappling with concerns about supply of the Pfizer/BioNTech, the company brought forward the delivery of one million doses originally planned for December, Mr Spahn told health ministry officials, according to two government sources.
That would enable it to deliver 3 million instead of 2 million doses next week as people rush to get booster shots and appointments at vaccine centres are booked out.
Whether it would affect the total number of vaccines assigned to Germany for the rest of the year remained to be decided, the sources said.
The surge in cases in Germany, and in neighbouring Denmark, prompted the US Centers for Disease Control and Prevention to advise against travel to the two countries, raising its travel recommendation to "Level Four: Very High".
UK – Weekly registered Covid deaths pass 1,000 for first time since March
The number of weekly registered deaths involving coronavirus in England and Wales has passed a thousand for the first time in eight months, figures show.
There were 1,020 deaths registered in the week ending 12 November where coronavirus was mentioned on the death certificate, the Office for National Statistics (ONS) said.
Covid-19 accounted for around one in 12 of all deaths registered over the seven-day period.
The number is up 3% from the previous week, when 995 deaths were registered.
And it is the first time the weekly total has passed 1,000 since the week ending March 12, during the 2021 national lockdown.




Read More: EU kicks off debate on need for booster shots to travel