Stocks and oil prices fall as new Covid variant worries markets – business live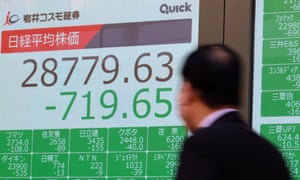 Good morning, and welcome to our rolling coverage of the world economy, the financial markets, the eurozone and business.
Financial markets have been rattled by the emergence of the worst Covid-19 variant yet identified.
Stocks have fallen sharply in Asia-Pacific markets, the oil price has dropped, and European markets are expected to open sharply lower too.
The variant, called B.1.1.529, contains an "extremely high number" of mutations, which could help it evade the body's immune response, scientists have said.
Those mutations mean that its spike protein looks different from the version that vaccines were designed to target.
Last night the UK imposed travel restrictions on six countries including South Africa, after data presented by South African scientists revealed that the variant also appears to be more transmissible and is already present in provinces throughout the country.
Two cases of B.1.1.529 has also been detected in Hong Kong.
The news has sparked a sharp selloff in the markets. Asia-Pacific shares have suffered their biggest losses since August, with MSCI's index of Asia shares outside Japan sliding 2%.
Japan's Nikkei is down 2.5%, with travel stocks among the big fallers. Japan Airlines has tumbled by 6.5%.
Hong Kong's Hang Seng index has dropped 2.4%, as concerns that the B.1.1.529 variant could worsen the pandemic sent investors scurrying toward the safety of bonds, the yen and the dollar.
Michael Hewson, chief market analyst at CMC Markets, says the emergence of B.1.1.529 has triggered "a huge sell off" in Asia-Pacific markets.



This variant which, it is understood, contains up to 30 identified mutations, has prompted WHO officials to call an emergency meeting to discuss what it means for vaccine efficacy as well as other treatments. The new strain has also prompted the UK government to implement flight bans from six African countries over concern as to what this might mean for infection rates, and other ripple out effects.

For the moment it is understood that the number of cases is small, but due to the thin liquidity levels in Asia trading as a consequence of the US holiday the reaction does appear to be outsized, with a surge into bonds, sending yields plunging, and gold higher.
Britain's FTSE 100 index of blue-chip shares is on track to tumble around 2% at the open, with losses seen across Europe.
The agenda
7.45am GMT: French consumer confidence for November
9am GMT: Italian consumer confidence for November




Read More: Stocks and oil prices fall as new Covid variant worries markets – business live