Nord Stream 2: how Putin's pipeline paralysed the west
The saga of Nord Stream 2, the gas pipeline between Russia and Germany running along the Baltic seabed, has been stuck so long it has been likened to a suitcase at an airport without a handle – impossible to abandon, and impossible to carry forward. Most of the original cast of characters – Jean-Claude Juncker, Angela Merkel, Matteo Renzi, David Cameron, Petro Poroshenko – have left the political stage. Only one politician has survived the entire story: Vladimir Putin, the Russian President, and the master of divide and rule.
First announced in 2015, the $11bn (£8.3bn) pipeline owned by Russia's state-backed energy giant Gazprom has been built to carry gas from western Siberia, doubling the existing capacity of the Nord Stream 1 pipeline and keeping 26m German homes warm at an affordable price.
But the one thing this pipeline is not, as lamely claimed by the former German chancellor Merkel, is a purely commercial project. It has vast geostrategic consequence, with every inch of pipe a pitched political and legal battle.
Indeed few engineering projects have thrown up so many issues: the restoration of the post-Soviet empire, the climate crisis, American bullying of Europe, Germany's emotional embrace of Russia, the legal powers of the European Commission, corporate lobbying, energy forecasting, and Gazprom's monopolistic model. Its fiercest critics have described it as a modern day betrayal on the scale of the Molotov-Ribbentrop pact of 1939.
By handing Putin such potential leverage over European energy security, it is argued, the 1,200 km pipeline leaves Free Europe at his mercy. If Putin wants a new Yalta, a new border settlement with Europe, then gas, and Europe's dependence on Russian reserves, has become a means to achieve it. Nord Stream 2's critics say it isn't so much about creating additional capacity as it is about supplanting the main existing path for Russian gas to Europe, which runs through Ukraine.
Others say this is hyperbole, and Russia would find that if it used gas as a geopolitical weapon that Europe has many alternative sources.
The pipeline's construction was completed in September after many postponements and legal hurdles straddled. But the Gazprom board is now waiting for final legal permission from German regulators to start sending gas down the pipeline to grateful German consumers. That permission has become the subject of early infighting within the new German coalition, made all the more intense by Putin's threats to Ukraine's sovereignty.
Such are the shifting balance of forces, it is just conceivable, if unlikely, that at the last moment the project will be blocked for good, leaving Gazprom and its five European co-investors with a gleaming white elephant at the bottom of the Baltic seabed, a child of a different era, a reproach to Putin's imperial overreach.
If so, it will be a great victory for Ukrainian independence. Ever since the pipeline was proposed, only one year after the invasion of Ukraine by Putin, Kyiv has ferociously lobbied against the idea.
Ukraine fears that by bypassing its own leaky gas route from Russia to Europe, the new pipeline – part of a wider Russian strategy to cut links with post-Soviet Republics – will deprive it of badly needed transit fees, the equivalent of 4% of its GDP.
Kyiv has also argued that the pipeline will increase Russia's control and share of the European gas market and therefore give Putin a chance to put his boot on the windpipe of Europe. The pipeline has an annual capacity of 55bn cubic metres – more than half of the 95bn cubic metres of gas Germans consumed through 2019.
Ukraine found ready allies for its cause in Poland, the Baltic States, belatedly Italy, the UK and, critically, the European Commission. They have all pointed to the Russian gas standoffs of 2006 and January 2009, and to Putin's recent threats to Moldova, to argue Russia will show no compunction about turning the gas taps off to secure geostrategic advantage.
Kyiv's lobbying led in December 2019 to the introduction of US sanc­tions under the Protecting Europe's Energy Security Act (PEESA). It meant construction on the pipeline was suspended for a year and a half, as the Swiss-owned contractor laying the pipeline backed off. Such was the German government's concern that in a private letter of 7 August 2020 Olaf Scholz, then finance minister and now German chancellor, proposed to the then US Treasury secretary, Steven Mnuchin, that Germany would fund the construction of two liquid natural gas terminals in Germany with as much as €1bn (£856m) in exchange for the US ending its hindrance of Nord Stream. The US has long lobbied for more LNG exports to Germany.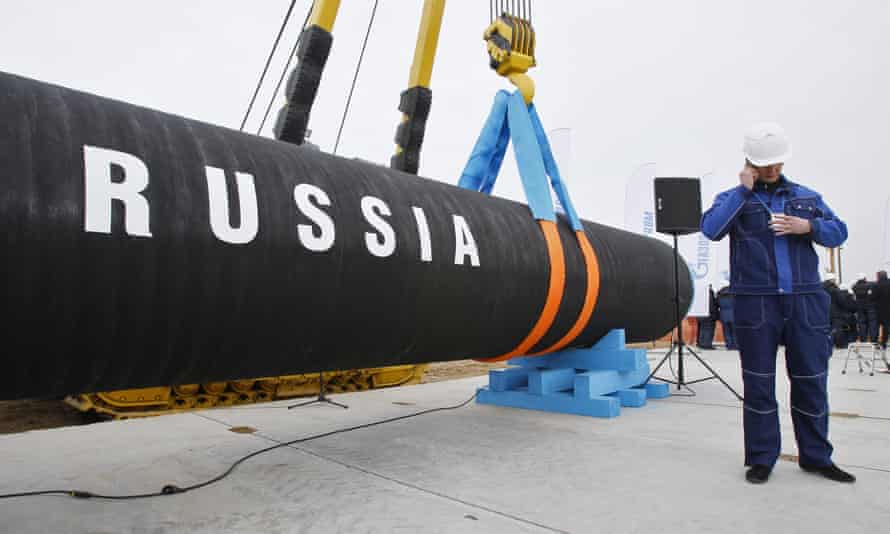 Donald Trump rejected the German offer, telling Merkel she had to stop feeding the beast. At a Nato summit in 2018 he complained: "Germany will have almost 70% of their country controlled by Russia with natural gas. You tell me, is that appropriate? We're supposed to be guarding against Russia and Germany goes out and pays billions and billions of dollars a year to Russia."
Initially the Biden administration's approach was one of continuity, copying the firm line adopted by Trump and urging Europe not to make itself vulnerable to Russian energy blackmail.
But by May, the line had softened. German diplomacy was at work. On 19 May Antony Blinken, the US secretary of state, waived sanctions on Nord Stream's chief executive, Matthias Warnig, chair of Nord Stream 2 and a close friend of Putin, explaining he wanted to give time for diplomacy to work. By 7 June Blinken said the pipeline was a fait accompli, and on 21 July, a week after meeting Merkel at the White House, Biden lifted sanctions altogether in a farewell gift to her.
Complaining he had been stabbed in the back – not the first US ally to make this point about Biden – Ukraine president, Volodymyr Zelenskiy, said Ukraine had been carved out of the decision making process, something the US contests.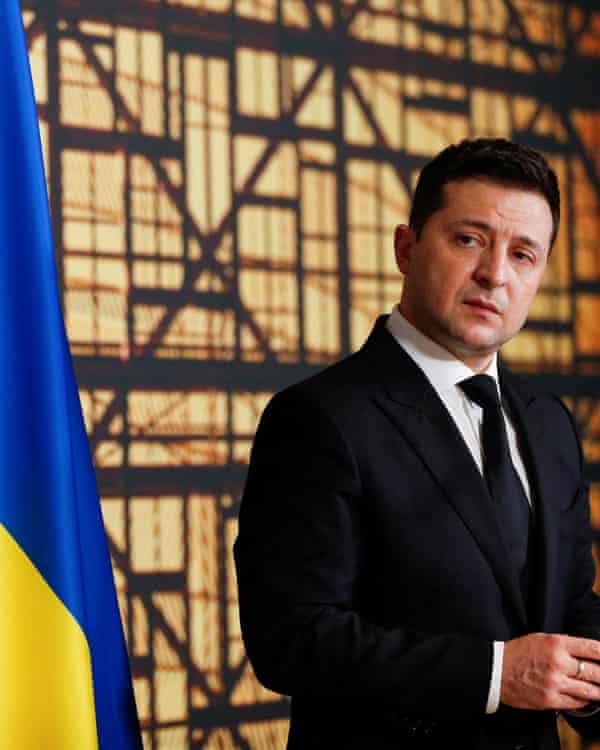 Under the agreement Merkel had reached with Biden, Germany promised to push to extend a Russian-Ukrainian gas transit agreement for 10 years as well as contribute $175m to a new green fund for Ukraine to improve its energy independence with renewables. "Should Russia attempt to use energy as a weapon or commit further aggressive acts against Ukraine", the statement also read, "Germany will take action at the national level and press for effective measures at the European level, including sanctions, to limit Russian export capabilities to Europe in the energy sector, including gas". Merkel said these assurances applied not just to her administration, but to her successor's.
Amos Hochstein, Biden's senior adviser for global energy security, later justified Biden's pragmatism, saying: "The idea of reaching the joint statement with Germany was recognising the reality of the completion of the pipeline itself, understanding that aggressive action by the United States would probably not have changed the outcome and perhaps only would have delayed it. So looking at reality, understanding it, and fashioning something with an arrangement with Germany that would allow us to continue to defend the significant interests that Europe has, that the United States have, to defend the security of Ukraine while addressing and mitigating the bad effects and the threats that Nord Stream 2 could pose".
This judgment has been repeatedly questioned, including in the UK. Biden decided to give the pipeline his reluctant blessing this spring, precisely at a time when Putin had first started to mass troops on the border of Ukraine. He also gave the go-ahead just as the German Green party, adamantly opposed to the pipeline and determined to take Germany in a new foreign policy direction, had climbed in the polls to become the largest party ahead of the September election. It was an odd time for Washington to send a defeatist signal to Annalena Baerbock, the Green party leader, and she did not hold back in criticising Biden's decision as one that would divide Europe.
Biden had also done little to square off angry Republican Senators that support sanctions on Gazprom as a national security necessity. Senator Ted Cruz, the Texas Republican who authored the bill mandating US sanctions on the pipeline project, rejected Biden's logic. "It was 95% complete in December of 2019 when we passed the sanctions, and we stopped it. And a 95% complete pipeline is 0% complete. And we saw, for a year, it remained a hunk of metal at the bottom of the ocean until Biden got elected".
By way of reprisal, Cruz sent letters to German firms working on the project threatening sanctions that will destroy their companies. He also issued a blanket hold on all of Biden's nominations for senior…


Read More: Nord Stream 2: how Putin's pipeline paralysed the west