Covid live: Boris Johnson's former communications director apologises for 'anger and
04:39
The Philippines will extend coronavirus curbs in the capital region of Manila and other provinces until the end of January, acting presidential spokesperson Karlo Nograles said on Friday.
Meanwhile, the Philippine government has defended a controversial ban that prevents unvaccinated people from using public transport in the capital Manila, denying that the policy was "anti-poor".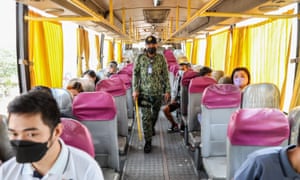 The "no vaccination, no ride" policy is designed to curb a recent wave of infections, and applies to all modes of transport to and from Metro Manila – including public buses, rail, boats and planes. The policy will be fully implemented from Monday, according to local media, when passengers will be required to show proof of vaccination.
The Philippines has experienced a recent surge in infections, which health experts have blamed on the more transmissible Omicron variant. The country reported a record 34,021 cases on Thursday, the highest since the start of the pandemic, half of which were reported in the national capital region. A further 82 deaths were confirmed.
Updated





Read More: Covid live: Boris Johnson's former communications director apologises for 'anger and