Supply chain issues overshadow LogiMAT, Germany. News story in Forkliftaction News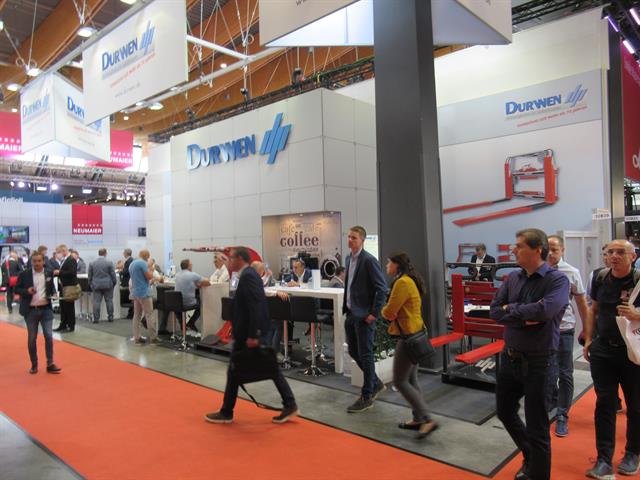 There was one topic looming behind almost every conversation at the recent LogiMAT gathering in Stuttgart: supply chain issues.
Virtually every exhibitor has been affected by the double whammy of a shortage of and price blow-out for steel and the continuing paucity of computer chips required in a growing range of applications in most machines.
The war in Ukraine and the sanctions imposed on Russia has caused a shortage in the global steel supply and saw prices spiralling, but the good news just after the show was that European steel prices have started dropping, offering some hope.
There are also signs that the computer chip crisis, sparked in 2020 by the COVID-19 pandemic, strong global demand and the China–United States trade war, is easing with a major global computer manufacturer tipping an improvement in the second half of this year.
Stefan Prokosch, senior vice president, brand management at Linde Material Handling, says his company is facing the same issues as everyone else. Linde's supplier management team is trying to integrate with suppliers, but sometimes has to change parts. "We try to limit the impacts and to be as reliable as possible" which can entail helping customers with stock from rental fleets or used machines. "We are using all the elements we have to keep the supply chains running."
Steffen Bersch, CEO of SSI Schaefer, says market disruptions have forced SSI Schaefer to be very flexible in the execution of projects and to maintain good relations with suppliers, sub-suppliers and customers. "In the years 2020 and 2021, we were able to deal flexibly with the situation, but in 2022, that's a bit more challenging."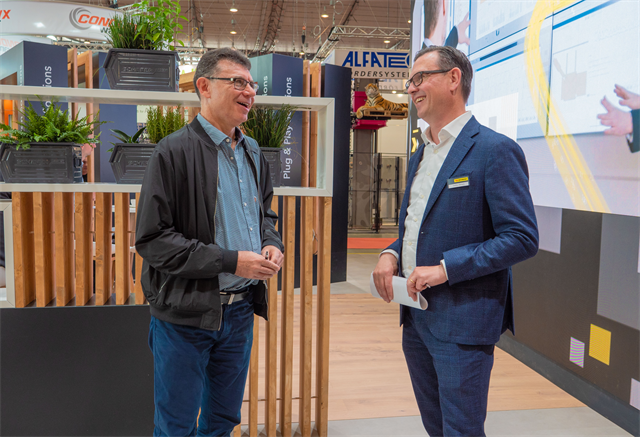 With a very strong order pipeline, SSI Schaefer is trying to look at projects "that we can execute under current conditions in a modulised way so that we can ensure that the customer investment is safe".
Fork manufacturer Vetter is feeling the impact since the company is a large user of both steel and electronic components. General manager Arnold Vetter says: "We're facing both shortage of supply and tremendous price increases," adding that some materials and components have tripled in price.
"The good thing is that we have strong relationships with suppliers which ensure that we are able to get materials – albeit delayed," he says.
Vetter is quite cautious about the future: "I am afraid that impact on global trade will be massive and we will not return to the conditions of two or three years ago," he warns.
Mitsubishi Logisnext has coped reasonably well with its supply issues, with Oskari Lindstedt, vice president sales and marketing, saying the company is "within the schedule we have promised customers". Delays, he says, are a matter of weeks not months.
"Looking forward to the rest of this year, I think our delivery times are quite reasonable," he adds. 
Delays in forklift manufacture is probably a bigger problem for attachment maker Cascade than the shortages of materials and components.
Regional sales manager Hansjörg Freund says while Cascade's lead times have blown out, the lead times for forklifts have increased even more. "The problem now is that manufacturers are ordering from us for delivery in 10, 12 or 14 months. This is a challenge we have never faced before."
Of course, Cascade has supply issues of its own: "It's the steel, the hydraulic cylinders, the electronic parts – and not just availability, but also the transport interruptions," he says. "But with the spread of factories all over the world, we have managed to work together, to help each other out and to utilise our various sites to compensate. I think that is one of our big advantages: we can work together because we have the same products in different parts of the world."
Doosan Bobcat marketing team leader Jan Droogendijk says his company's vertical integration has shielded it somewhat from the supply chain challenges. "Doosan does make its parts, so we can keep control over the process," he says, but he concedes that some trucks on the assembly line are still waiting for components.
Hubtex is quoting 20 to 40 weeks delivery schedules at the moment, according to marketing director Marc Liske. He says pricing was a hot topic on the stand, and his team was stretched to give estimates because of all the market uncertainty.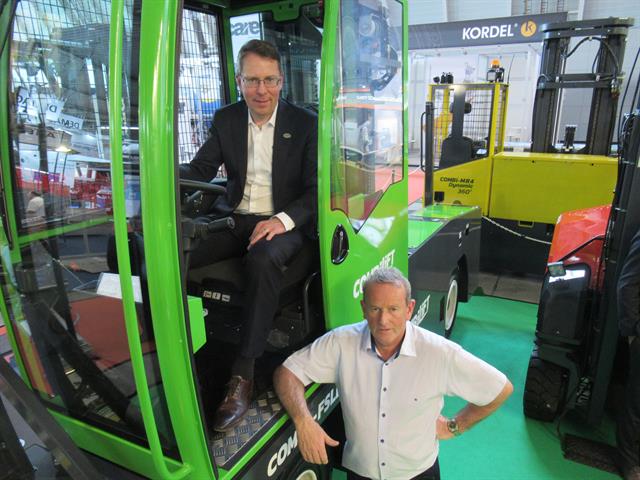 Combilift is benefitting from some early movement, with co-founder Martin McVicar explaining that the Irish manufacturer has been storing steel for a while. "We always carry some buffer stock and we made a strategic decision in early 2021 to expand our storage capability, adding 40,000 sqft. (3,700 sqm) of space for material storage. We've never had more raw material on site," he says, "but that doesn't mean we have every raw material available.
"Our production output is increasing month by month, but we are still not meeting demand," he adds.
Italy's Baumann is somewhat shielded from the market volatility by its long order time, with customers normally ordering equipment for delivery a long time later. "Yes, we have a long waiting list, but we have managed so far not to let anyone down," says Tony Benson, global marketing manager. Delivery times at the moment average around a year for the more common models – double what Baumann would like, but not outside market norms today.
Sweden's Semax has smaller production runs than most manufacturers, so its supply challenges are proportionally reduced. "We saw this (crisis) coming, so we increased our stock substantially, so we still have good delivery times," says CEO Tobias Ingemarsson. Where Semax is struggling is with lithium batteries, he adds. He admits that there are forklifts stuck on the production line, waiting for controllers for the batteries, and he is still waiting for clarity on delivery times.
For Italy's Mariotti, delivery times have slipped from 12 to 32 weeks, according to director Francesco Bruno. He doesn't feel too bad about the shortages and delays, noting that even some of the giant manufacturers, with their large contracts and wide-ranging supplier networks, are in the same boat.
Bruno notes that profits are under strain. "We can't change the price when a dealer orders a truck, but suppliers are changing their prices all the time," he explains, adding the uncertainty makes financial forecasting very difficult.
Peter Ossendorf, DACH sales manager at Oceaneering, says AGV manufacturers are perhaps the worst affected segment at the moment because of the heavy use of computer chips.
He says each week seems to bring shortages of a new chip, affecting production.
While customers realise that his company is not unique in facing the supply challenges, "no-one is happy", he says, and Oceaneering is offering sweeteners like quicker installation or free software to appease the market.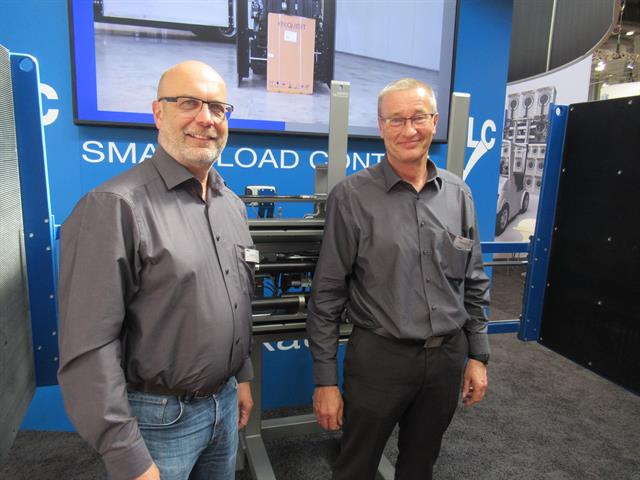 Kaup CEO Holger Kaup notes that his product is one of those most affected by price rises (steel has increased in price four-fold since last year) and component shortages, and he doesn't expect any relief from the supply chain challenges this year.
"Every day, another material is lacking and we have managed the process to date, but I don't see the situation improving over the next year or so," he laments. The challenge for Kaup is that it has record orders from forklift manufacturers – but most of it is for delivery next year. "It doesn't make sense to manufacture attachments now that will only be needed next year."
If there's one silver lining in all of this, it's that "we're all in this together". Europeans have come to expect long delivery times – be it Volkswagen cars or home appliances.
Equally, the market seems resigned to higher prices, so materials handling manufacturers are not encountering resistance when they try to pass on price increases.
Semax's Ingemarsson, for example, has been surprised at the level of understanding from customers about the delays and even about the cost increases his company has been forced to pass on.
Similarly, Arnold Vetter has seen wide-scale market acceptance of price increases necessitated by the supply challenges. "It was hard for everyone to get used to the new conditions," he says, explaining that Vetter has long-term relationships with its customers and has engaged in constructive discussions about handling the market situation. 
Check out our show gallery here.


Read More: Supply chain issues overshadow LogiMAT, Germany. News story in Forkliftaction News