Orla Mining: Growth At A Reasonable Price (NYSE:ORLA)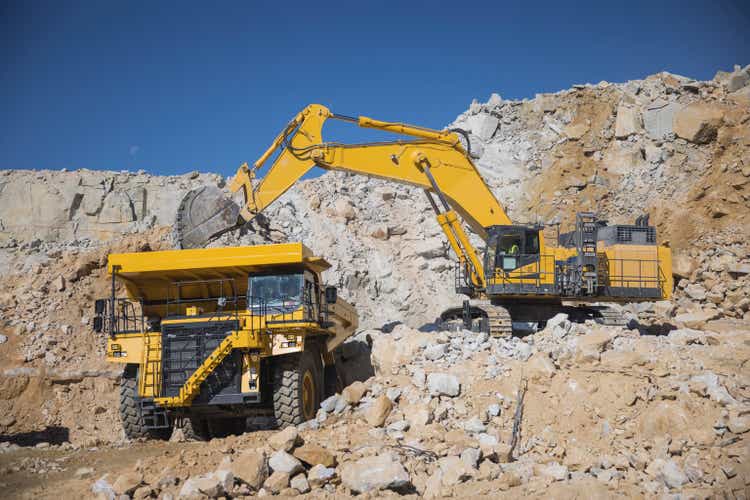 It's been a brutal two months for the Gold Juniors Index (GDXJ), and while many names have seen violent declines, Orla Mining (NYSE:ORLA) shed more than 40% of its value in a nearly straight line fashion. This can be attributed to gold price weakness and its recent announcement that it plans to acquire Gold Standard Ventures (GSV), which often leads to share-price weakness for the acquirer. Overall, Orla appears to have got a solid deal and is undervalued following its recent decline. However, while I see long-term upside from current levels, I would view any rallies above US$3.55 before September as profit-taking opportunities.
All figures are in United States Dollars unless otherwise stated, and any calculations use an exchange rate of 0.80 CAD/USD.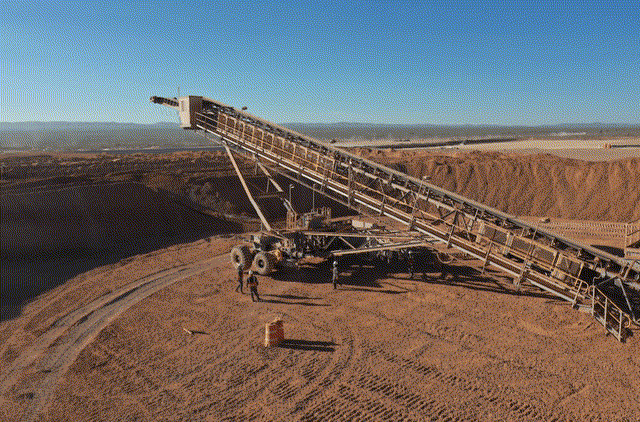 Orla Mining had a solid start to the year, ramping to commercial production at its new Camino Rojo Mine on time and in line with its budget in a construction period plagued with supply chain headwinds, labor tightness, and inflationary pressures. Compared to companies that have failed miserably, like Argonaut Gold (OTCPK:ARNGF) and Iamgold (IAG) in their construction process (Magino, Cote), Orla's performance was deserving of praise and made the company one to keep a close eye on. Unfortunately, just three months later, the stock has found itself down more than 40%, taking a beating following its proposed acquisition of Gold Standard Ventures ("Gold Standard"). Let's take a closer look below:
Gold Standard Ventures Acquisition
Orla Mining announced last month that it would acquire Nevada gold developer Gold Standard Ventures in an acquisition valued at ~$194 million. For those unfamiliar, Gold Standard owns the Railroad Pinion land package on the southern portion of the prolific Carlin Trend, a 50-mile by 5-mile geologic corridor through southern Nevada. Gold Standard happens to be the second-largest land owner in the prolific region, with ~21,700 hectares of land. The company's focus has been on its South Railroad Project, home to 1.60 million ounces of gold reserves at two key deposits: Dark Star and Pinion.
Gold Standard completed a Feasibility Study on South Railroad earlier this year, with the study showcasing a project capable of producing ~152,000 ounces of gold over its first four years at all-in sustaining costs below $1,000/oz. Over the 10-year mine life, annual gold production is expected to come in at ~124,000 ounces (excludes pre-production and residual leach years of operation), a very respectable production profile. Just as important, average all-in sustaining costs were anticipated to come in below $1,050/oz over the mine life net of by-product credits. Finally, the initial capex should be more than manageable at just $190 million.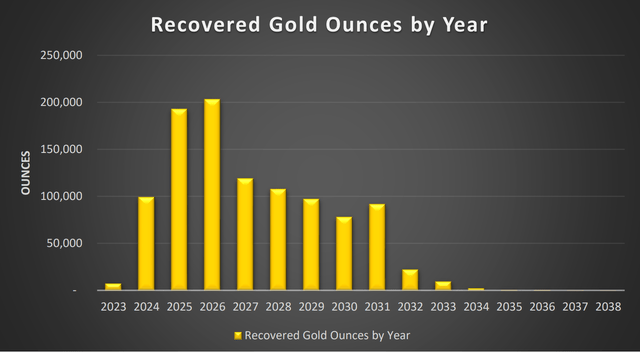 Outside of Gold Standard's valuation, which allowed the company to acquire Gold Standard at less than 0.65x P/NAV ($315 million at $1,650/oz), which helped justify the takeover, Railroad South fits Orla's business model nicely. This is because it's a run-of-mine heap-leach gold project, similar to its Camino Rojo Mine, a relatively high-grade heap-leach gold project in Nevada. Not only are these projects relatively inexpensive to build with just an ADR plant, LNG facility, and mobile equipment in Gold Standard's case, but they benefit from industry-leading costs if run properly, assuming they have grades above 0.75 grams per tonne of gold.
Given Orla's size as a ~$1.0 billion market cap producer, Railroad South is a great fit, with it able to get this project into production by 2025 (assuming permits are granted) with zero share dilution (outside of the dilution to acquire Gold Standard). The one negative is that Railroad South will be margin-dilutive to Orla, though this is only because Camino Rojo is such a robust project, with all-in sustaining costs below $800/oz. For this reason, it's not easy to find projects that can meet or beat Camino Rojo from a margin standpoint or are even in the same league. Still, the jurisdictional upgrade is a huge deal, with Nevada ranking well above Mexico, especially with the issues some Mexican miners have experienced over the past two years like Equinox (EQX) and Fortuna Silver (FSM).
Exploration Upside
In addition to Dark Star and Pinion, which form the basis of the mine plan at South Railroad, Gold Standard has multiple targets and more than 600,000 ounces of resources outside of its mine plan. Some of the upside at Railroad South involve sulphide resources, which would require a separate processing plan and a toll-milling agreement with nearby operators. Still, similar to Orla's Camino Rojo, the upside opportunity on the property is significant, suggesting that the current mine plan understates the project's true potential from a long-term cash flow standpoint.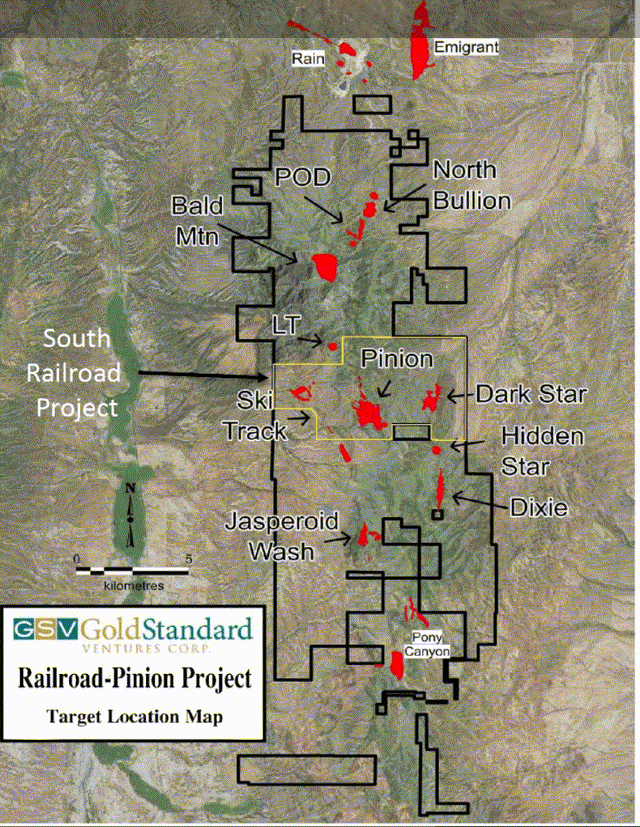 Finally, it's worth noting that in addition to ounces not included in the mine plan, Gold Standard holds the Lewis Project, home to ~21 square kilometers of land on the Battle Mountain-Eureka trend and adjacent to Nevada Gold Mines' Phoenix Mine. The deposit is home to a small resource base of 7.74 million tons at 0.83 grams per ton of gold and 14 grams per ton of silver, translating to just over 250,000 gold-equivalent ounces. This would likely interest Nevada Gold Mines [NGM] in the form of a layback agreement, given its proximity to NGM's high-margin Phoenix Mine. Hence, while the resource is small (~200,000 ounces), it should have strategic value to Orla.
Industry-Leading Growth
Following the acquisition of Gold Standard, Orla Mining has gone from a company with a lean and mean growth plan (Cerro Quema, Camino Rojo Sulphides potential) to a gold producer on steroids. This is because the company looked like it may have had a path to ~200,000 ounces of annual production by 2026 at sub $800/oz all-in sustaining costs and 350,000+ ounces later this decade. However, with the addition of South Railroad, the company could have 500,000-ounce potential by 2029, translating to ~400% growth from its FY2022 guidance (90,000 to 100,000 ounces).
This growth profile is based on Cerro Quema, which could be an 80,000 to 100,000-ounce producer, South Railroad at ~125,000 ounces, Camino Rojo at ~125,000 ounces, and further upside from the Camino Rojo Sulphides opportunity. As it stands, the main priority looks to have shifted from Cerro Quema to Railroad South, given that it will lead to immediate growth, an improvement in the jurisdictional profile (Nevada vs. Panama), and it's currently further advanced. In fact, South Railroad could have all its permits by September 2023, with Orla able to begin construction by October of next year.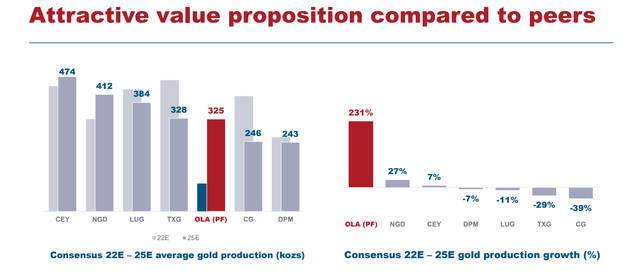 While this growth profile is phenomenal, the estimates put forth in the recent presentation look a little ambitious. This is because Orla is projecting a 231% growth rate from its estimated 98,000 ounces of gold production this year, or growth to 325,000 ounces of gold in 2025. I don't see how the company expects to achieve this growth, given that it should take at least 14 months to build Railroad South, and permits should take at least 13-15 months to be granted.
If we assume permits are granted in September 2023, construction begins in October 2023, and the first gold pour is in January 2025, I would be shocked to see a 140,000-ounce year out of Railroad South in a shortened 2025 year. Hence, even if Camino Rojo comes in above estimates from its mine plan at 130,000 ounces, this would place Orla at around 270,000 ounces for 2025, which while still an incredible growth rate, is still quite a bit shy of a potential 325,000-ounce target in 2025. That said, even if the company breaches the 300,000-ounce mark in 2026, this would be a very impressive feat, giving it one of the most impressive growth profiles industry wide.
Long term, Orla has considerable upside from its Camino Rojo Sulphides Project, where we should get a better idea of the potential by year end. In addition, after building Railroad South, it would then likely look to build Cerro Quema, an oxide project with copper potential in Panama. Putting this all together, there appears to be a clear path to at least 300,000 ounces of annual production at sub $900/oz costs by 2028, with further upside if the company can deliver on Camino Rojo Sulphides as well. Given the diversification into Nevada and assuming successful execution at Railroad South, this should allow Orla to see a slight re-rating, with the potential for multiple expansion to 1.05x P/NAV after it sheds its single-asset producer status.
Valuation and Technical Picture
Based on an estimated ~340 million fully-diluted shares and a share price of US$2.90, Orla trades at a market cap of ~$986 million. This compares quite favorably to an…


Read More: Orla Mining: Growth At A Reasonable Price (NYSE:ORLA)