Powerful Putin ally sees Russia on the brink of a new world order
Russia is on the precipice of heading a new world order that minimizes the United States' relevance on the global stage, Venezuelan Foreign Minister Carlos Faria said after meeting with one of Russia's top officials.
On Tuesday, Faria called the North Atlantic Treaty Organization (NATO) a "terroristic and hostile alliance" that Russia and President Vladimir Putin are battling "in the name of humanity," according to Russian news agency TASS.
"The U.S. dominance is no longer an absolute one," Faria was quoted by TASS. "A new world is being born, and Russia is on the frontline of this struggle. Today this is reflected in Russia's special military operation to contain the expansion of NATO and counter its reckless policies that endanger Russia's security and European peace by encouraging the neo-Nazi government in Kiev and its policy of genocide."
Venezuela is one of Putin's strongest allies in South America and has joined a chorus of Russia's allies that have dismissed America's power in the global arena.
"It is an urgent matter and it must be resolved before the imperialistic aspirations of the United States put humanity in even greater danger," Faria added.
Russian state-owned news agency Sputnik reported that Faria also alluded to a deepened partnership between both nations due to shared interests in the oil sector. He expressed those sentiments during a meeting with Russian Foreign Minister Sergey Lavrov in Moscow on Monday.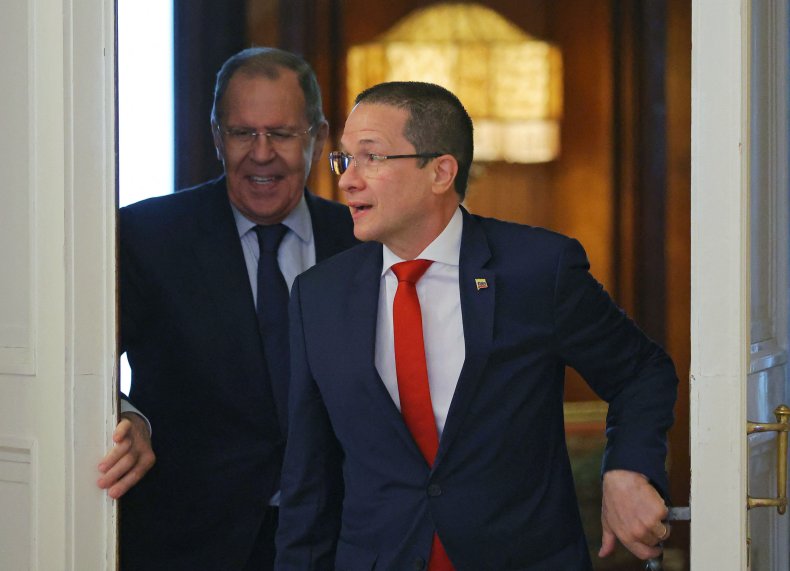 New agreements between Russia and Venezuela are reportedly being devised to bypass sanctions in financial and logistical sectors targeted by the U.S. and allies in the European Union (EU) and NATO—though Faria said his country's concerns existed before Russia invaded Ukraine, according to Sputnik.
"The conditions in which we found ourselves thanks to the actions of the U.S. administration hindered the development of the oil industry," Faria said during his meeting with Lavrov.
Lavrov added that each country's president has agreed to strengthen political dialogue regarding economics, trade, and cultural and humanitarian exchanges—in addition to jointly addressing energy, pharmaceuticals, industry, transportation and military-technical cooperation.
"We know how seriously the Americans and their allies sought, seek and will continue to seek to undermine the foundations of the Venezuelan economy," Lavrov was quoted by Sputnik. "It's already clear now that these plans will not come to pass. The Venezuelan economy is demonstrating its capability to withstand this sort of pressure. And of course, we will help in every possible way."
NATO Secretary General Jens Stoltenberg, following the NATO summit held in Madrid during the last week of June, praised NATO allies for "transformative…far-reaching decisions" made to adapt and advance the alliance.
Those have included moves to address global climate change and food shortages caused by Russian aggression, Stoltenberg said, in what he described as "the most serious security situation in decades."
NATO referred Newsweek to Stoltenberg's summit comments.


Read More: Powerful Putin ally sees Russia on the brink of a new world order