What is pink sauce and why is it trending on Twitter?
A mysterious pink sauce gained notoriety after the creator of the sauce went viral online for smothering her food in the homemade sauce.
The TikToker who goes by Pink Sauce Queen, or @chef.pii, posted her first video about the mystery dipping sauce on June 13 where she paired it with chicken nuggets and cucumbers.
In other videos, @chef.pii dips tacos, gyros, fried shrimp, and fast food burgers. The self-proclaimed chef said she typically dips food in the pink sauce but sometimes pours it on pasta and noodles.
How Popular Are Condiments?
While Americans are known for their bizarre love of dipping sauces and dressings, the numbers show that they are pretty picky about their condiment of choice, with 24 percent saying they hate hot sauce and 17 percent hating mustard, The Harris Poll reported.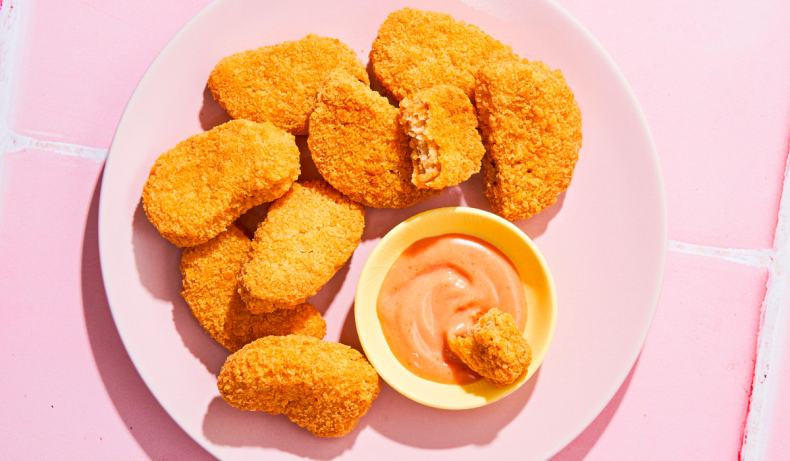 The 2021 survey by Harris found that three in 10 Americans would refuse a dry sandwich, with many opting for the four classics: mayonnaise, ketchup, mustard and hot sauce.
What Is Pink Sauce?
According to the official website, Pink Sauce is a "secret sauce" containing the following ingredients:
Dragonfruit
Sunflower seed oil
Chili
Honey
Garlic
Branding itself as the "infamous dipping sauce that everyone is raving about," many Twitter users are mentioning the fact that the nutrition label for Pink Sauce includes more ingredients than what is advertised online.
The sauce is offered for $20 online, with the nutrition label claiming there are 444 servings per container.
Why Is It Trending?
On July 20, @chef.pii shared a TikTok of herself dipping chicken nuggets into the hot pink sauce, prompting many online to ask if the sauce was edible.
"You can keep that," one user commented on a TikTok from June 20 showing @chef.pii making and bottling her pink sauce.
"That doesn't look like it should be going in my body," another user commented.
"It's giving Eddie's Million dollar cookoff," another user commented, referencing a Disney Channel movie from 2003.
With a mission to "thrill your taste buds," the sauce certainly stirred up discourse online–albeit not particularly positive.
#PinkSauce
As #PinkSauce began trending on Twitter, more users came out of the woodwork to see if they could create an at-home pink sauce
Rather than DIYing the sauce, other users created viral memes to joke about the unappetizing color, many comparing it to medicine.
'Not Going to Pay $20'
Many users online mentioned the fact that it is unsafe to purchase food products from strangers online, some prompting to make their own instead.
"So the pink sauce reviews are going up," bestselling author Mikky Kendall tweeted. "First of all I am amazed anyone ordered it. Second of all, the ingredients list doesn't make sense. Stop buying food from random people online."
"Some rando making #PinkSauce on tiktok and y'all see the ingredients list has misspelling and also the hue of it being different in every vid and y'all wonder why y'all sick?" user @rolanditorulez tweeted.
"This #pinksauce is giving crazy vibes to me y'all don't even know what is really…could be hotdog juice mixed with pepto," @MISS_K_BVNNY tweeted.
One Twitter user told Newsweek she watched @chef.pii's TikToks about the sauce and noticed several inconsistencies.
"I'm not going to pay $20 for a mystery sauce BUT I am going to attempt to recreate it at home," @MelissaEnchant or Melissa Enchanted tweeted. "Let's try it two ways. First the way it says it is via marketing & the second using their ingredient list. #PinkSauce"
Enchanted told Newsweek that she noticed the sauce "varied in color, consistency and nutritional information," which prompted her to "figure out what exactly was in it."
"It was a journey, I couldn't get to look anything like what she had from following the ingredient list, and that's when I realized she shows herself making it with Mayo, not milk."
Enchanted added that when she made it using @chef.pii's tutorial, the sauce had a dark pink color and medium consistency.
Reviews
According to Enchanted, the pink sauce is reminiscent of a garlic aioli with dragon fruit in for color."
"It seems over time it gets less pink, and that tasted better to me," she told Newsweek. "Neither are recipes I'd make again though. I'd prefer fry sauce or a garlic aioli without dragon fruit."
Newsweek reached out to @chef.pii for comment.
Other TikTok Recipes
Other unique recipes that found virality on TikTok include a decadent dessert called "chocolate crack" and a trend of freezing honey.
Some TikTokers opted for more questionable food tricks, such as attempting to poach an egg in a microwave.




Read More: What is pink sauce and why is it trending on Twitter?